With the VM580D, Hytera has added a new bodycam to its portfolio, which, in addition to its outstanding video recording quality, also features an ultra-thin 20 mm housing, convenient operation and PoC functionality. The 2-inch touchscreen, the simple user interface, a powerful 1-watt speaker and a large PTT button make operation convenient and uncomplicated. A separate alarm button as well as an instant SOS function increase user safety.
The VM580D can record videos with a resolution of 1080p, also with infrared night vision function. This allows details to be seen clearly even in the dark at distances of 5 to 10 metres. The device also has a pre- and post-event recording function that can automatically save the period 30 seconds before and after a recording.
Live video streaming via LTE
In addition, the VM580D supports uploading video over an LTE network while still recording. The bodycam can also upload high-resolution photos and share real-time location data over LTE, 3G and Wi-Fi networks. It supports global positioning systems such as GPS, GLONASS and AGPS, as well as indoor positioning via Bluetooth.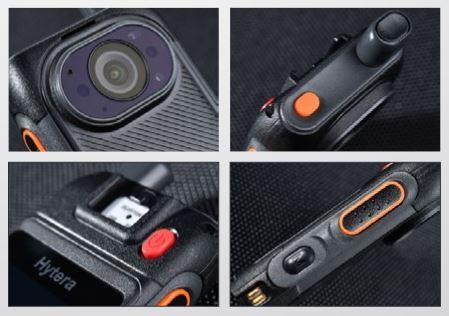 The VM580D is compatible with the Hytera Integrated Device Station (IDS), which can capture, display, playback, archive and log data from bodycams. Bodycam data can be managed via Digital Evidence Management, DEM. The Hytera remote management solution for mobile devices, Smart Mobile Device Management (SMART MDM) enables simple and convenient device management and programming.
The highlights of the VM580D from Hytera at a glance:
User-friendly
At just 20 mm, the Hytera VM580D is very thin, compact and a lightweight: it weighs just 172 grams.
Infrared night vision
Thanks to infrared technology, the VM580D provides a clear image even in low light conditions. It has two infrared LEDs that switch on automatically in low light to ensure a sufficiently clear image even at night.
PoC functions
Push-To-Talk Over Cellular (PoC) applications allow the VM580D to be used as a radio. By simply pressing the Push-To-Talk (PTT) button, voice calls can be made over LTE or WLAN networks.
Rugged and durable
The VM580D is rugged and takes on adverse conditions. The IP68-certified bodycam is fully dust and waterproof and meets the specifications of the military standard MIL-STD-810G.
Video streaming
The VM580D streams live video to the control centre via an LTE network, so commanders always know exactly what is going on. Situational awareness and decision-making are improved.
Data security
The VM580D features AES-256 encryption, ensuring the highest level of data security. All recordings are encrypted and only accessible to authorised users. The video is automatically time-stamped with the device ID and user ID when recorded. This prevents potential manipulation. In addition, recordings cannot be deleted directly on the camera, by anyone. All these functions ensure data integrity at all times.
Long battery life
Equipped with a 3000 mAh battery, the VM580D allows more than eight hours of continuous video recording on a single charge. Thanks to the integrated emergency power battery, the smart device can continue recording for three to five minutes even when the battery is changed.